The Nail Files.
Nail art has seen a huge resurgence in the world of fashion and beauty. While the economy was slumping into a dreary crisis, we were still spending our hard earned income on nail polishes. Sales went up 65% since the first half of 2008, meaning that nail varnish is indeed recession-proof. Why? Because nails are the perfect feminine asset where you can let yourself go wild with design and colour as well as being the reliable, dependable accessory that will ensure to revamp any outfit, all this without asking for a loan or breaking the banks.
So, whether it's a simple French mani, or a geometric multi-couloured print, nails are fast becoming the new canvas where you can showcase your style, attitude and personality. Unlike most other make-up items, with nails, the rules are completely unrestrictive.
Wraps:
We all love the look of freshly painted nails but sometimes the hassle and the potential mess completely puts us off  decorating out digits. Cue nail wraps, the lazy girls answer to perfect nails in an instant. If you're not quite the arty-farty type and are way too busy to spend 7 hours painting a cupcake on every nail, fear not, you can still get art-inspired fingers with unique, intricate designs, and you don't even need to allocate a spare few minutes for drying time. Wait, there's still more, once on, they last up to 7 days on the fingers and about 8 weeks on the toes. Jesus must have realised our torment and performed a beauty miracle. 'allelujah!  Unlike nail polish they won't chip or stain the nail and are quick and painless to apply. Now available in countless styles and designs, they are a great alternative to usual nail art techniques and once you get the hang of application (pulling them tight over the nail before filing away the excess is key) they really are a doddle to use.  Nail wraps are basically a type of adhesive sticker which can be applied to bare nails or over gel or acrylics to create a super quick polished look. All you've to do is stick them on, file away the excess, and BAM! You are finito.
I gave Primark polka dot nail wraps a go, £1:
With these you have to warm them up before application by rubbing them between your fingers. Then peel off and apply the correct size wrap to your nail. Secure it all down, and file off the excess. My nails look bang on trend without any of the effort. I've tried L'oreal ones before and have to admit that they are easier to apply and last a lot longer. However, they cost £8.99 and the Primark ones are only a quid so you get what you pay for.
Treatment:
It's essential to take care of your nails. "Just like the eyes are the window to the soul, so are the nails." The nails offer many little clues to what's going on inside your body. Your nails may speak volumes about your tidiness, attention to detail, and your fashion sense. But next time you go for a polish change, take a look at your digits; they might be trying to tell you something too. Your body has a knack for letting us know when something has gone awry and your nails are no exception. Their shape, texture, colour, and overall condition can clue you in on what's happening with your health, so keep a look out for any changes.
Many people say that their nails simply do not grow, whether that's because of splitting and breaking due to them being weak or because they chew and pick at them. Either way, your nails WILL grow. I used to gobble up my nails for years (I'm talking until I was about 21). Why did I stop? Whilst trying to woo me, a charming man told me it was disgusting and "it's what 7 year-old boys do", so yeh I stopped because a man told me to. I know, I'm sorry. That man is now my boyfriend. I am glad I stopped though, through sheer will power I just politely stated a clear 'fuck you' to my now-boyfriend and thought if you want long nails, you can have long nails. I can stop, I'll show you. And I did. They also come in quite handy when he's pissed me off.
If you simply can't grow your nails because they are weak and brittle, don't rush to the salon to get an acrylic set – they'll wreck your nails even more, as well as empty the contents of your purse on a regular basis. You need to get your hands on Sally Hansen's range of nail care. From cuticle care to formulas that protect your nails, Sally Hansen is the nail expert you can rely on. The strengthen and grow range includes nail hardeners, nail thickeners, and nail growth. So, whether you have dry and brittle nails, soft and weak nails, or short nails, Sally is your gal.
I gave Sally Hansen Miracle Cure a go, £9.99:
This is a really fast drying treatment and is an all round cure to get stronger nails. It's said to "stop nails from peeling, breaking or splitting – building 50% stronger nails in just 3 days. It will restore flexibility, condition dryness and strengthen from within". My verdict: Yes, it works. The bottle lasts for ages and is a great investment to achieve good nail care. There are loads of different types to achieve different results. I have my eye on the 4 in 1 Nail Conditioner.
Varnish:
Varnish has been around for centuries. the first lady to wear solid colors using the modern nail polish was Eleanor Roosevelt, little fact for you there, you're welcome. Nail varnish is the simplest and cheapest way to add a little sparkle and glamour to your look. There really are a rainbow of colours available to try out. You're guaranteed to find the exact colour to go with your outfit so you no longer have to frantically rush around the shops hoping to find accessories to match your pinky-redy-bluey-green dress. There are also different textures available now including leather, glitter, cracked, mirror metallic, magnetic and, depending on how flamboyant you want to take it, you can apply some fake rhinestones or stickers to make them literally stand out.
It's vital that you apply a base coat before applying the coloured nail polish. This helps strengthen nails with protein, vitamin E and calcium which can help prevent nails from breakage and peeling, as well as to restore moisture into the nail. By applying a base coat, the polish forms a smooth surface by filling in any ridges and serves as an adhesive barrier between the colour and the nail to prevent your nails from turning an unhealthy yellow shade.
Then, apply two thin layers of colour (making sure each coat is thoroughly dry before adding the next). A pick of some of my most recent nail colours:
Blue: Barry M Gelly in Light Blue, £3.99
I love Barry M nail varnishes. Not only are they really cheap from just £2.99 but they have a gorgeous range of colours and go on really nicely and easily. The new Gelly range (£3.99) is my new favorite thing in my make-up bag. The texture is silky yet thick and the hi-gloss finish is professional and beautiful leaving you with gel-like, shiny nails. Barry M also offer confetti effect, chameleon colour changing, and foil effect nail polishes (make sure you keep updated for reviews on them, coming soon!)
Pink(s): Bourjois So Laque in Rose Lounge, £5.99 and Rimmel I Love Lasting Finish Fruities in Strawberry Fizz, £2.99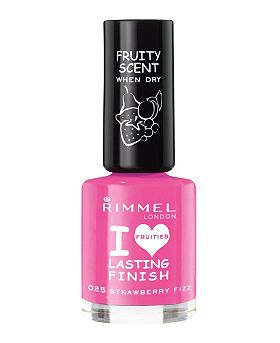 I'm still not sure if I like the new nude nail colour trend but this Bourjois version is a fantastic compromise. It has a pinker hue and is very discreet and delicate. I then applied a bright pink colour 'Strawberry Fizz' onto the nail tips to make it look a little edgier. The Rimmel I Love Lasting Fruities nail polishes not only bring a burst of dazzling colour but they also smells delicious. When the enamel is dry you are left with fingers smelling of sweet, sweet strawberries, yum.
Mint: Technic Pretty Pastels in Green, 85p

Mint is the hottest colour this season, from tops and bags to eyeshadows and nails, you'll be seeing it everywhere. When I saw this colour by Technic I just had to have it. I've never bought, or even heard of, this brand before but you shouldn't be put off just because you don't recognise the name, if it looks nice, give it a go, just because it's not advertised on the telly doesn't mean it's no good. Some of the absolute gems of my make-up bag are finds from completely unknown makes. This is one of them.
White: OPI Nail Lacquer in White, £11.50

OPI is said to be the God of all nail varnishes. The quality of the nail varnish formula is second to none. They are opaque, apply smoothly, and last for ages. With a huge selection of colours and finishes, you are certain to find one to suit. Yes they may be expensive but psssst… if you go on to Fragrancedirect you can grab a bottle for just £3.99! Bargain!
Orange: Natural Collection in Antique Coral, £1.89

Another hot colour is this orangey/coral colour. This polish from Natural Collection has a sparkly tinge to it through the subtle hint of shimmer, making it the perfect summery shade. At £1.89 you really can't go wrong.
After you've applied the colour, let dry, and paint on a clear top coat. The top coat forms a harden barrier for the nail to prevent chipping, scratching and peeling. It strengthens the nail and forms a glossy, shiny finishing touch to the nail whilst preserving the design for a longer period of time.
Nail Tips:
* Always roll the bottle of polish back and forth between your palms – never shake it. Shaking can cause bubbles.
* Keep nail polish out of the heat
* Cleanse the nail bed before applying any varnish by washing hands, using cotton wool soaked in nail polish remover, and drying.
* Look for non-acetone nail polish removers
* Rub on a dab of cuticle treatment (serums, creams, gels) and push cuticles back (try not to cut them off)
* File nails into a fashionable "squoval" (not too square, not too oval) shape as this tends to be very strong and resistant to breakage
* If your nails are stained, simply soak them in denture cleaner to remove the stain
* Harsh manicures, acrylic nails, or gel wraps can leave your nails brittle so make sure you take a break and give your nails time off
*Be sure to replenish the moisture in your hands with a rich nail conditioner.
*Don't bite them. Leave that to the 7 year old lads.
~x~